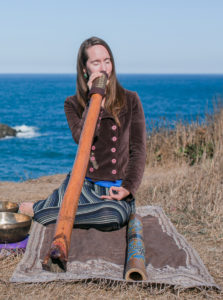 Audrya Chancellor has been exploring Sound Healing and Reiki since 2003 in Canada.  She began offering Didgeridoo and Reiki sessions focusing on clearing stuck energy and activating the Chakra system. Audrya traveled to Australia in 2008-09 to connect with the Aboriginals and other Didgeridoo Masters. She received permission to play the didgeridoo for healing from many different Aboriginals as they appreciated Audrya's humble connection to Mother Earth and her compassion.
"I sing for the Trees for they have no tongues." Lorax
At the International Conference on Indigenous and Ancestral Wisdom, Healing and Transformation in 2017, Audrya connected with an Aboriginal Elder, who had a dream that he would offer healing sessions as he sang his traditional songs while Audrya played the didgeridoo. It was truly one of the greatest honors Audrya has received.
Her journey with Sound Healing continues to open as she sings and facilitates Chakra Toning for clients and groups to use their own voice to heal with her Throat Chakra Crystal Singing Bowl.
The  Elk Medicine Drum she plays was created by her own hands with her husband while being pregnant with their son in Mendocino, CA. The Drum has been in sweat lodge and blessed by a local Medicine Woman.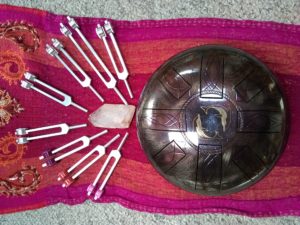 Tuning Forks are Audrya's newest passion; she has been studying the Meridian Points on the body and Chakras to gain a deeper understanding on conducting a full Sound Healing experience for her clients. She created Mendocino Sound Healing to offer personal and couple's sessions locally.
Audrya absolutely LOVES collaborating with other Sound, Breath, and Yoga practitioners which open many more opportunities to reach larger groups so more people can experience the benefits of these modalities.
~Feeling is Believing!~