Up Coming Events
"New Moon Sound Journeys" at Kama Loka
Dec 22nd, 7-8:30pm

You are invited to center in with a guided meditation and the healing frequencies of sound as we open to our full potential that awaits for this next cycle.
We will welcome our evolved ancestors, spirit animals, cosmic family and angels into this experience to help guide anything that needs to be released, healed or activated for your highest good and the greater good of humanity at this time. If you are feeling these shifts and know that it is time to rise with our community with a loving, accepting and unified purpose please join us with an open heart. We will be collectively sending love and prayers to those in need on our Earth.
You will want to bring a water bottle, yoga/camping mat, pillow, blanket, anything that will make you feel comfortable while receiving this experience.
Sliding scale ~ $20-30
Feel free to bring crystals or other sacred items that will enhance your personal cocoon.
Kama Loka is located 335 N Franklin St, Fort Bragg, CA
~
"Winter Sound Baths" at Rise and Be Well
 Jan 15, Feb 12 & March 12 ~ 7-8pm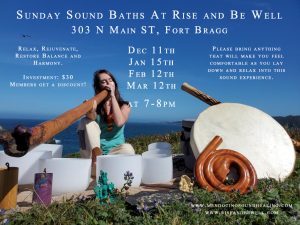 Relax, Restore and Rejuvenate at our Sound Baths hosted by Audrya Chancellor. Enjoy the sounds and healing frequencies of a symphonic gong, didgeridoos, chakra crystal singing bowls, an ocean drum, koshi chimes and heart songs. Please bring a yoga mat, pillow, blanket and anything that will make you feel comfortable as you lay down during this experience.
Investment: $30, discount for members.
Rise and Be Well is located 303 N Main St STE C, Fort Bragg, CA (in The Company Store)