Up Coming Events
"Spring Cacao Ceremony" at 
The Dome in Albion
April 2nd, 2023 ~ 1-3pm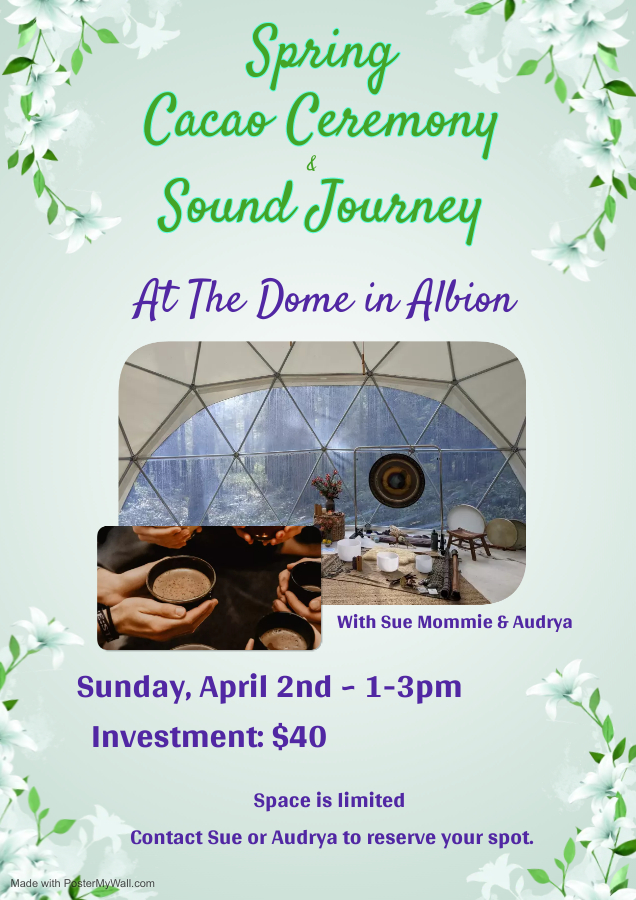 As Spring begins to unfold on the coast we have an opportunity to tend to the seeds in our hearts. You are invited to a magical redwood forest at The Dome in Albion to nurture yourself and blossom from within.
Sue and Audrya have been working and playing together for over 10yrs. They weave together their medicine and magic to bring you a beautiful mystical experience. They honor the powerful heart opening plant spirit of Cacao, speak to your soul with the ancient sounds of didgeridoo, grandmother drum and medicine songs, and lead your spirit on a journey to deeply connect with the medicine wheel of life and the elementals. Illuminate with the crystal singing bowls and chimes as these frequencies connect you to the angels, your higher~self and source light. You may find you are awakened to your Divine True Self.
Please contact Audrya directly audrya@mendocinosoundhealing.com to pre-register.
Currently, there are only three spaces available.
 ~
"Light and Sound Group Journey" at 
Rise and Be Well
April 22nd, 2023 ~ 5:30pm – 7pm or 7:30 – 9pm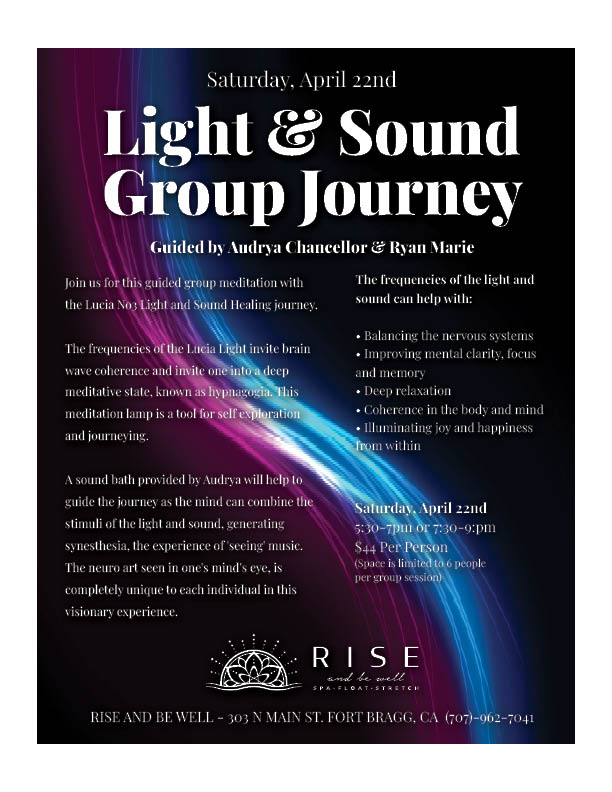 Guided by Audrya Chancellor & Ryan Marie
Join us for this guided group meditation with the Lucia No3 Light and Sound Healing journey.
The frequencies of the Lucia Light invite brain wave coherence and invite one into a deep meditative state, known as hypnagogia. This meditation lamp is a tool for self exploration and journeying.
A sound bath provided by Audrya will help to guide the journey as the mind can combine the stimuli of the light and sound, generating synesthesia, the experience of 'seeing' music. The neuro art seen in one's mind's eye, is completely unique to each individual in this visionary experience.
The frequencies of the light and sound can help with:
Deep relaxation
Balancing the nervous system
Coherence in the body and mind
Improving mental clarity, focus and memory
Illuminating joy and happiness from within
Saturday, April 22nd
5:30-7pm OR 7:30-9pm
$44 Per Person
Space is limited to 6 people per group session
Pre-register www.riseandbewell.com/events or call 707-962-7041
~
"Sound Bath" at 
Rise and Be Well
April 30nd, 2023 ~ 7pm – 8pm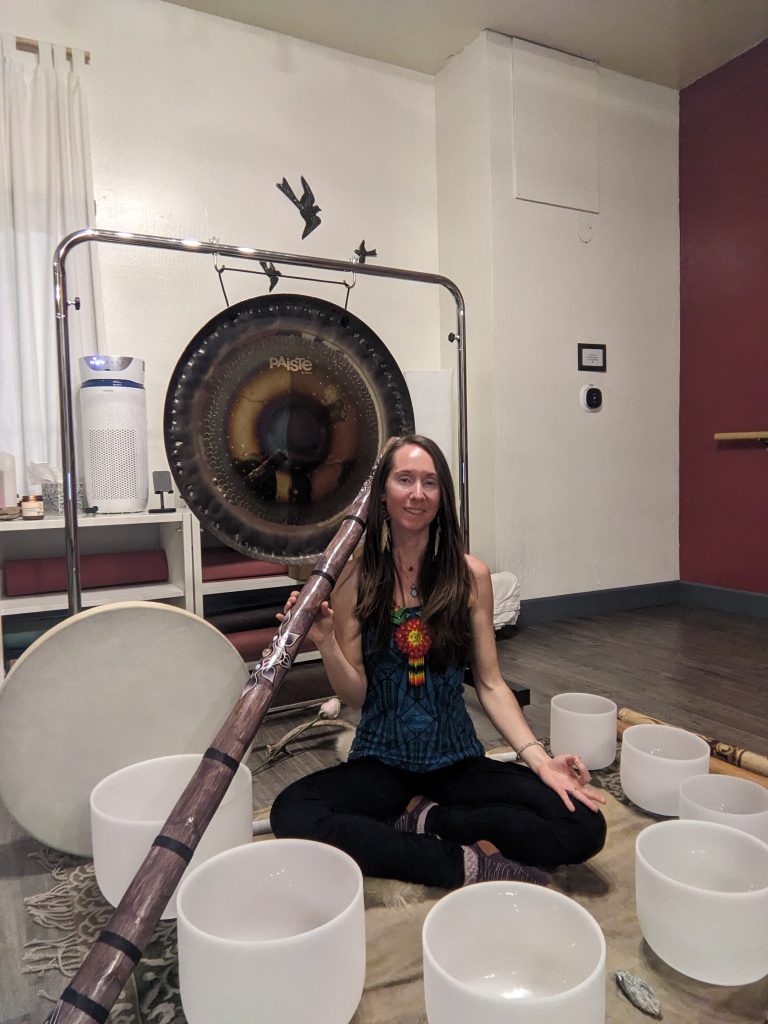 Featuring the healing frequencies of
A 32″Symphonic Gong
Didgeridoos
An Ocean Drum
Crystal Singing Bowls
Koshi chimes
MagHealy
And Heart Songs
Psychoacoustic science has proven that Sound Healing and Sound Baths can help with:
Deep relaxation
Cellular regeneration
Decreasing blood pressure
Balancing the nervous system
Improving your quality of sleep
Improving mental clarity, focus and memory
Illuminating Joy and Happiness from within.
You are invited to enter the yoga studio with your mat, pillow, blanket, water bottle and anything that will make you feel comfortable while you lay down to receive the healing frequencies of sound.
Investment of $30 and Members receive a discount.
Seniors $20
Audrya has been offering Sound Healing internationally for over 20yrs. In 2008, she traveled to Australia and received blessings from the Aboriginal Elders to play the Didgeridoo (called the Yadaki in this traditional language) as a tool for healing on North American soil. The journey was life changing and she is grateful to share the song of the Didgeridoo with you.
Audrya is a Certified Sound Healer, Shamanic Reiki Practitioner, Reiki Master, Cosmic Divine Light Healer and a Regenerative Health Practitioner.
Pre-register www.riseandbewell.com/events or call 707-962-7041